A VA loan is a mortgage loan that is guaranteed by the Department of Veteran Affairs (VA). 
This is a top benefit of military service that is designed to help active-duty military personnel, veterans, and eligible surviving spouses purchase a home. It allows you to qualify for a low-cost mortgage, even if your credit isn't perfect or you don't have a large down payment.
VA Loan Highlights: 
VA Loan Rates Are Typically Lower
Because they're backed by the government and carry a lower risk for lenders and investors, VA loans typically have lower interest rates than conventional loans, particularly for borrowers with credit issues. 
VA Loans Usually Don't Require A Down Payment
VA loans typically don't require a down payment. This means you'll need less money upfront, being able to save the extra or spend it on home furnishings and projects.
No Private Mortgage Insurance (PMI)
VA loans don't require PMI. PMI is mortgage insurance on conventional loans that a lender may require you to pay if you don't put 20% down. Not having to pay PMI can save you between 0.1 – 2% of your loan amount per year.
Lenient Borrowing Requirements
VA loans allow you to qualify with a higher Debt-to-Income (DTI) than any mortgage program from one of the major mortgage investors.
VA Funding Fee: VA loans require a funding fee that can be added to your initial loan amount. The amount of the funding fee is determined by how many times you have used your VA eligibility and down payment. If you receive any type of disability from the VA, the funding fee is waived.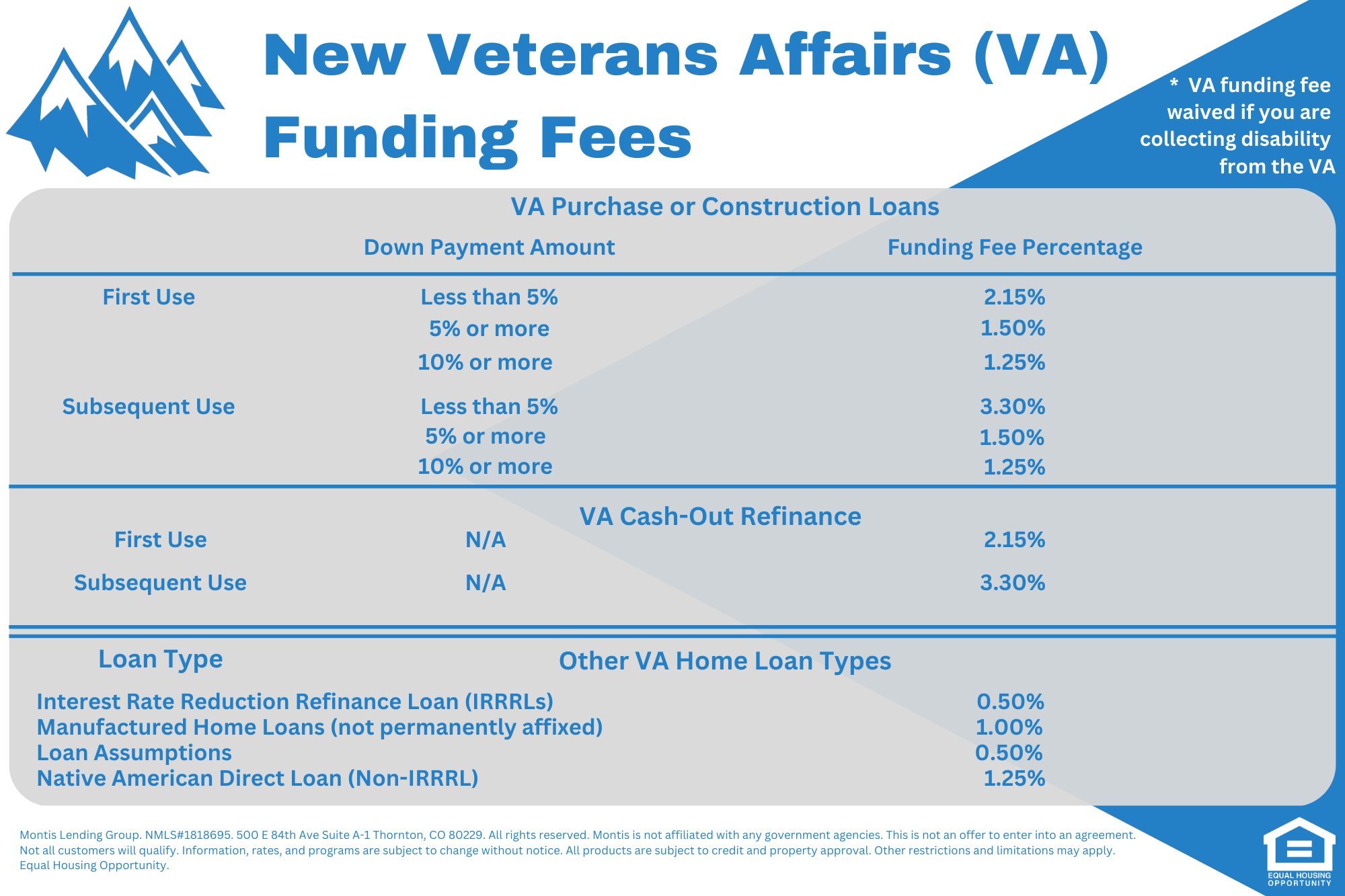 Working with Montis Lending Group
We average 15 days from Submission to Clear to Close 

Our experienced mortgage broker is extremely knowledgeable in VA products 

We work with a variety of lenders to provide you with competitive rates and flexible loan terms
**Montis Lending Group is not affiliated with or acting on behalf of or at the direction of FHA, VA, USDA or the Federal Government.